Steam Your Streak Promotion at MyBookie

Winning streaks are what we are all after as sports gamblers and a good gambler will hit them often. Many like to quit while ahead, grab their cash, and be done. However, winners don't stop placing wagers and it's only a matter of time before they come back once they've cooled off and their hot streak is over. MyBookie gives you plenty of reason to see your hot streak through with their Steam Your Streak promotion.

This promo rewards anyone with ten consecutive wins with a free play bonus worth $25. Twenty straight wins will get you a $50 free play bonus at that. It's a great promotion with an easy sign-up. Place your wagers with MyBookie and let your hot streaks pay you even more and here's how.
First, simply email promo@mybookie.cr to claim promotion.
You must hit ten consecutive wagers to qualify for the free play bonus.
Only bets on money lines, run lines or game totals will apply. Parlays, teasers, and other wagers that are not straight wagers will count as one bet total.
Only bets of $25 cash or more will qualify for Steam Your Streak.
Free bets will not count toward your streak.
No lines greater than -140 apply to Steam Your Streak.
The bonuses you win will be credited to your account as a free play.
Free play Terms and Conditions apply to promotion.
Multiple winning wagers on a single game will only count as one win in your streak.
Players have up to 3 business days to claim your free play once the streak is completed.
All winnings from the free play wager will have a 1x rollover before your winnings can be withdrawn.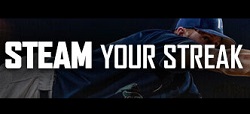 All of MyBookie's promotions and bonuses are some of the best on the internet. Not only does the MyBookie online sportsbook have plenty rewards, promotions, and bonuses for you to use to your advantage, they also have many more betting options. The NFL, MLB, NHL, NBA, Nascar, and NCAA football, basketball, and baseball. Not only is every sport widely available to wager on, there are plenty of wagering options too. Parlays, teasers, and totals. Props, Futures, run lines, goal lines, and point spreads.
They offer Sign-Up Bonuses and Referral Promotions as well as Reloading Matching Bonuses. MyBookie has rollover requirements to follow in order to prevent abuse and these will vary from promotion to promotion just like most sites but you will find they are some of the lowest around. Use MyBookie to your advantage by taking them up on all of their generous offers.
Promotions come and go from site to site but not at MyBookie. The Steam Your Streak promotion is always on and rewards you nicely just for winning. Now that's always a good deal. Sign-up with MyBookie, simply play your game the way you like to, and keep those hot streaks going. If you want to get ahead in the sports gambling world you have to get hot and when you do, you may as well get paid for doing so.
Also click here to read about their Snap Your Skid Promotion