Cloudbet Promotions and Bonus Offers – September 2020
UPDATED
September 15, 2020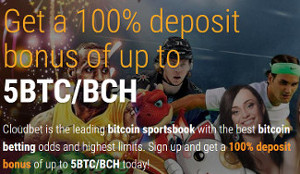 Digging around on the Internet, one is able to find that the team and management behind this Sportsbook/Casino have been around for decades doing their thing, and apparently doing it well. Cloudbet is very clean, very smooth, well built, and just all around quick and responsive. For a great full review of the site, check out what the folks over at GoodSportsBooks had to say during their review.
This is a bitcoin only Sportsbook. If you need any help with using bitcoin you can take a look at the bottom of the Cloudbet home page. They have a pretty good "how to" down there to get you started.
Also, one more thing, did you know that Cloudbet has actually lowered their minimum stakes? Yup. You can now wager as little as 10 satoshi! That's only good news and more bets for you!
There is some bad news to get out of the way. Players from the US, UK, Hong Kong, and Singapore are not welcome. Sorry folks, that's just the way it is, nothing we can do about it. Moving on, we can still talk about the great deals and promos going on over there!
Those of you that have been with us for a while may have noticed something. You may have noticed that it looks as though this page hasn't been updated for a while. Not true! We update these pages very often! Sometimes the sportsbook in question doesn't update their offers. Cloudbet is one of them – but when you can match up to 5BTC, do you need more!?
Screenshots
Pretty sure you're just not going to find this anywhere else!
Cloudbet is offering zero margin odds on various competitions, guaranteeing you the best prices in the world for your favorite sports including NBA, MLB, NHL, MMA, Champions League and Europa League soccer!
Just keep your eye out for the highlighted event whilst exploring the sports pages while at Cloudbet.
For each selected sports event, Cloudbet will offer 1000 customers odds with zero margin. They're giving up their commission on these bets to ensure you get the best possible odds and maximize your winnings!
Of course there are some Terms & Conditions, and here they are.
This offer is available to all customers with a valid and funded Cloudbet account
For select MLB games, Cloudbet will offer as close to zero margins on moneyline, run line and totals bets.
For select NBA games, Cloudbet will offer as close to zero margins on moneyline, spread and totals bets.
For select NHL games, Cloudbet will offer as close to zero margins on winner bets.
For select UEFA Champions League and Europa League games, Cloudbet will offer as close to zero margins on match result, Asian handicap and total goals.
For select MMA fights, Cloudbet will offer as close to zero margins on winner bets.
Such bets are available during a period that opens up to 12 hours before each game and closes when the 1000-player limit has been reached, or when the game commences, whichever occurs first.
This bonus was published on September 1, 2020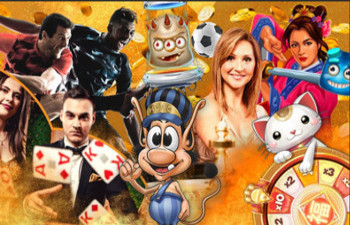 That's not a typo up there!
Joining in on the fun over at Cloudbet can get you an incredible Welcome Bonus of up to 5btc!
Here is how it works!
Create your new account – You can do this from any desktop or mobile device and then complete the 2-step process:
Confirm your new account by checking the email that Cloudbet will send you, and then
Make your first deposit.
And that's it!
This money will be given to you as you earn loyalty points when playing your favorite games.
For every 800 Loyalty Points you earn, Cloudbet will release 0.01 into your account which will show up for your use immediately.
You will have one year /  365 days to earn all of the Loyalty Points needed to take full advantage of this Welcome Bonus.
You may come into a time when you need a good ol' refill on the account there.
If and when that time comes, may as well at least try to wait until Monday.
Why Monday? you may ask.
On Mondays, Cloudbet will match you up to an incredible 25btc!
This bonus was published on September 1, 2020
Turbo Thursday 100% Reload up to 50mBTC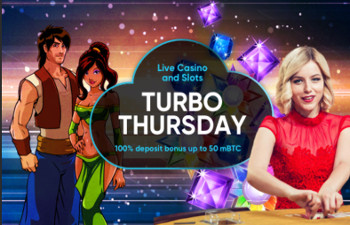 Let's face it. There may come a time when you need to reload your account to keep the fun going over at your favorite casino, that's just a fact of life.
Of course there are some rules to follow to go along with this promotion, but not many, and they're not bad at all!
Deposit must be placed between 05:00-23:59 UTC on Thursdays.
Players must have deposited within the last 3 days in order to be eligible for Turbo Thursday.
Deposits must have been made by 00:00 UTC Mondays.
Minimum first deposit is 0.1 mBTC to be eligible for the promotion.
Just follow along with those and take advantage of all kinds of extra money for you every week!
This bonus was published on January 6, 2020
We just simply cannot tell you a ton about this offer here because it changes daily!
If you're into eSports, you're going to want to check this one out, and if not, you may want to get into them now!
Everyday Cloudbet will pick a featured esports event and boost the odds, giving you even greater value than usual.
Now, to find out what the game of the day is, you'll have to join Cloudbet's Discord channel, but why aren't you already on it anyway?
This bonus was published on September 1, 2020
As you can see above, there just aren't any real "promo codes" at Cloudbet, but still, some incredible deals for you to get in on! Obviously, you may have to wait for certain days of the week to use some of them, but that's okay. It'll give you something to look forward to throughout the week!