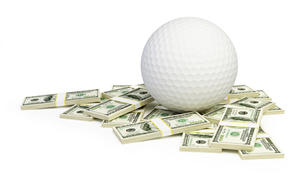 Betting on golf is quietly becoming one of the most popular year round sports betting arenas.
All the major sportsbooks offer golf betting, but that doesn't mean all golf betting sites are created equal.
This page takes a look at the latest betting promotions that you can take advantage of if you are wanting to bet on golf today and we will give newbies a quick run down of what you can expect when betting on PGA events.
Special Betting Promo's For Golf Bettors
Whether you're wagering that Tiger will take the Masters or Mickelson will snag the US Open (which he did by the way), you win when they win (if you're laying odds on them). If you're an avid sports bettor, golf betting will seem intuitive to you. There are three main types of bets (with a variety of side bets) and they're simple to learn. Even if you're new to online sports betting, and golf betting sites in particular, getting started is easy. We'll show you how on this page.
Below, you'll discover the main criteria pro golf bettors rely upon when laying their odds; we'll describe exactly what you should focus on to improve your results. We'll also explain the different types of bets you can make so you can get started immediately.
Deposit Bonuses You Can Use For Golf Bets
About Choosing a Golf Betting Site
Online sportsbooks vary dramatically in quality. Some offer enormous sign-up bonuses, but maintain rollover requirements that make earning the bonuses out practically impossible. Some provide a wide array of lines, but the odds are unattractive. For this reason, we recommend that you register an account at each of the three golf betting sites listed below. Not only do their reputations precede them, but you'll be able to compare the best lines between them.
Bovada Sportsbook – Bovada is known for their responsive customer support, intuitive software, and an generous "standard setting deposit bonus. They realize that their success hinges on whether members find their site and software to be flexible and easy to use. Thus, they've made placing golf bets simple. If you have any problems (which is unlikely), a quick call to their customer support staff will resolve them.
How To Bet On Golf. Making Money At Golf Betting Sites
As with any type of sports betting, the more familiar you are with the sport, the better you'll do. This means you should invest time to learn about the golfers. For example, what are Mickelson's strengths and weaknesses? Which courses does Tiger tend to dominate? How has Westwood been playing recently, and is his current game promising?
Also, familiarize yourself with the handicaps pro bettors use when laying money on the top golfers and golf tournaments. For example, which course is being played and how does each golfer play on it? Are the holes further than the holes on other courses? Are the greens more steeply pitched? How deep are the roughs? Golfers have their favorite conditions. Learn them to gain an advantage on the odds.
When betting on golf tournaments, you should also take note of the weather. Slight changes come across differently on television than they do on the green. These changes can devastate a golfer's game, or improve it dramatically. For example, some do particularly well in low-humidity conditions; others do well with rain threatening in the distance.
Consider which golfers are traveling to the game from afar. For example, if Westwood is flying into the U.S. from England, can he be expected to swing as well as Tiger? If Mickelson is traveling to the UK, will the change in time zones affect his performance?
These small details are what separate the golf bettors who consistently make money and those who are left wondering why they always lose. Invest the time and grab the advantage. You'll do much better at the top golf betting sites.
Golf Tournament Betting Online
Betting golf tournaments online you have three main types of wagers you can make at most websites to bet on golf games. You can bet on the following tournament golf bets:
1. which golfer will win the tournament
2. whether a particular golfer will finish an event in the top three
3. whether a particular golfer will finish above another golfer
With each of the three wagers above, you'll see players listed next to their odds (similar to any sports betting line). For a "bet to win" wager on an upcoming golf event, you might see the following:
Tiger Woods +130
Phil Mickelson +190
Lee Westwood +240
Steve Stricker +320
The above means you'll win $13 for every $10 you bet on Tiger if he places first. You'll win $32 for every $10 you risk on Stricker if he places first. Most golf betting sites will also allow you to place a "field bet," which represents a wager on any player not listed. The odds are higher, and so is the payout.
Top 3 Golf Bets
A listing for a "top 3" golf bet might look like the following:
Tiger Woods -140
Phil Mickelson -110
Lee Westwood +110
Steve Stricker +230
The payouts are lower because the odds of a given player finishing in the top three are much greater.
For example, suppose you bet that Mickelson will finish in the top three for the event. You would need to risk $11 to win $10.
A "match-up" wager (i.e. you're betting one player will finish higher than another) will appear like the following:
Phil Mickelson -150
Steve Stricker +120
In the above, Mickelson is the favorite and Stricker is the underdog. Thus, if you wanted to bet on Mickelson, you would need to risk $15 to to win $10. If you wanted to bet on Stricker, you would risk $10 to win $12.
In addition to the three types of tournament golf bets described above, you'll also have a chance to bets on rounds and groups.
These wagers, however, are essentially mild variations of the three main golf bets.
If you're familiar with any type of sports betting, you'll find it easy to make the transition to golf. Whether you like ncaa betting online or if you want to know the best tennis betting sites the desire to make the game a little more exciting is alive and well in certain individuals. If that feels like you, take a few minutes to visit each of the three golf betting sites profiled above. Register and fund your accounts, compare the odds at each site, and get started betting on your favorite golfers.
UPDATED
September 28, 2023