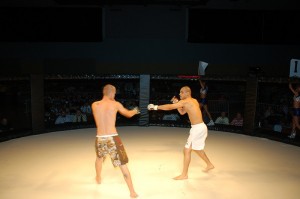 Old-school MMA purists will tell you that mixed martial arts lost part of its soul when it hit the mainstream. Long before the sport became sanctioned and regulated, spectators could expect more ferocity and blood. Having said that, its mass popularity has come with a silver lining: more convenient betting opportunities. MMA UFC betting sites, relatively commonplace today, were all but unimaginable in the old days.
Maybe you're a long-time UFC fan and are just now getting interested in putting money down on your favorite fighters. All you need is a quick guide to get started. Or, perhaps you've already dabbled with MMA betting, and want to learn a few tips to improve your results. Whatever the case, this page will give you the information you need to not only bet on UFC fights, but to do so with confidence.
We'll start off with an overview that will help you to get the most out of your bets. You'll also learn about the types of wagers you can place at the top MMA UFC sportsbooks. Toward the bottom of the page, we'll explain why most bettors lose money on the bouts, so you'll know which mistakes to avoid.
If you're wondering where to bet on mixed martial arts, here are our favorite sites for US based bettors:
Fight Betting Site Bonus Offers
Bovada – Find tons of UFC and MMA events to bet on, and grab a free $250 bonus (50% match) in the process. Open to US bettors.
Bookmaker – 15% cash welcome bonus (up to $600) and 25% reload bonus (up to $1,000) if you reload using bitcoin. Also live betting on MMA fights, and ongoing reloads. Open to US bettors.
BetDSI – 50% welcome bonus (up to $500), reload bonus, rebates and constant contests. Use the bonuses and promos to get the most out of the site's lines, props, and futures. Open to US bettors.
We have a lot to cover, so let's get started.
How To Bet On MMA Fights: A Bird's-Eye View
As with any type of sports betting, whether on baseball, football, or NASCAR, there are 3 basic rules to thriving on UFC betting sites. All 3 are critical. But they're also intuitive, which causes a lot of folks to dismiss them.
First, learn about the fighters on the card you're thinking of betting on. It's foolish to jump into a fight (with your money) without having a grasp of how the fighters' styles match up against one another. Has one of them continually dominated the other in the past? Does one of them have a unique edge over the other? You should know before placing a wager.
Second, familiarize yourself with how odds work. Otherwise, you'll be betting blind. We'll shed some light on this topic in the next section. One of the most important things to remember is that the odds are chosen by the UFC MMA sportsbooks. That means you'll find different odds at different books.
Side note: the sites we recommended above tend to have great odds on fights.
Third, learn to control your bankroll. One of the most common problems we see with new bettors is that they're too aggressive with their wagers. They put too much money on a single event. You wouldn't bet half your 401K on a hot stock tip. So, why would you risk 50% of your bankroll on the outcome of a fight? Good money management is essential on the mixed martial arts betting sites.
UFC MMA Betting: Moneyline Bets, Prop Bets, And More
Football and basketball bets have spreads. They're essentially a handicap. If the Dallas Cowboys are playing the New York Giants, and the Cowboys are much better than the Giants, the spread evens things out.
MMA events don't have spreads. Instead, each fight has a moneyline. The line represents the odds, which the sportsbook establishes to help even out the betting activity on both sides of the event. Here's what a moneyline bet for a hypothetical UFC bout looks like:
Antonio Silva -130
Frank Mir +140
The fighter with the negative number – in this case Silva – is the favorite. The fighter with the positive number (Mir) is the underdog. The numbers reveal how much money you need to bet in order to win a certain amount. If you wanted to back Silva, you'd need to wager $130 to win $100. If you wanted to back Mir, you'd need to wager $100 to win $140.
That's a basic moneyline bet. It may seem confusing at first, but it'll become intuitive after you place a few wagers.
Besides line bets, you can place prop bets. These are wagers on whether a specific occurrence happens during a bout. For example, suppose Silva and Mir are in the cage. You might place a prop bet on whether Silva will beat Mir by submission. Depending on the sportsbook, prop bets might be available on whether the fight reaches the 5th round, whether it ends in a knockout, or whether the winner is chosen by decision.
Prop bets can be lucrative, especially if you know a lot about the fighters. But be careful not to waste your bankroll on impulsive bets that amount to little more than guesses.
If you're feeling lucky, you can also place parlays. These are bets for which you pick the winners of two or more fights. If you pick all of them correctly, you'll win a major payout (measured as a percentage of your wager). If one of your picks is wrong, you'll lose your wager.
Parlays are available in other sports, but are seldom as appealing as they are in UFC bouts. The reason is because a lot of MMA events are heavily favored toward one fighter or the other. As we described earlier, the sportsbook will set a moneyline that attempts to even things out for individual events. But that imbalance can often make it easier to pick winners across an entire card.
Those are the main types of wagers you'll see listed at the top-rated MMA UFC betting sites. Let's now talk about how you can get the most out of them.
Tips To Leverage At MMA UFC Betting Sites
When you first get started with UFC betting, you'll be tempted to place bets on every bout. It's natural since the fights are exciting and the idea of making a profit on the outcomes is almost irresistible. But just like mariners in Greek mythology were lured to their doom by the songs of the sirens, so too are new bettors pulled in.
Resist the temptation. Pick events for which you have an edge, such as knowledge about the fighters and fantastic odds.
Also, don't shy away from putting money on the underdogs. If you're like most people, you'll be inclined to bet on the favorites. But counterintuitively, that's no way to turn a consistent profit on MMA betting sites. The odds usually allow for much better results betting on fighters who are expected to lose. There's a lot of money in calling upsets.
One last tip: don't assume a particular sportsbook has the best odds for an event. We noted earlier that odds on UFC events vary between books. Get used to "shopping around" before making bets. This is the reason we strongly encourage you to register accounts at a few UFC betting sites. Anytime you're considering a bout, invest a couple of minutes to check out the lines at your favorite sites.
It would be silly not to.
Why UFC Bettors Lose Money On MMA Betting Sites
Frankly, there are a lot of reasons folks lose money betting on mixed martial arts. But one of the biggest among them is bad money management. Yes, we already mentioned bankroll management. But it's so important that it bears repeating.
If you learn to control your cash, you can weather a series of bad bets. If you fail to manage your cash, even a series of correct picks won't save you in the long run. Limit each wager to a small percentage of your bankroll, even if you're absolutely "certain" of a fight's outcome. And it should go without saying that you shouldn't try to recoup your losses by doubling up. (That mistake is more common than you think.)
Bottom line: learn about the fighters, figure out how the odds work, and learn how to manage your bankroll. Do those three things, and you'll have an excellent shot at making a consistent profit on your bets. When you're ready to jump in and place a few bets, check out the UFC MMA betting sites we recommended above.
UPDATED
November 29, 2023