Bet on Horses Free With $25 No Deposit in the SportsBetting.ag Racebook

As the popularity of online sports gambling grows each day and deals and promotions soar, one aspect of the sportsbook is constantly overlooked. The racebook. Horse-racing has long had its share of dedicated players but it has only been recently where there have been so many options to lay a bet.
Most online sportsbooks are now carrying wagers on the ponies and no one is doing it better than at SportsBetting. You can find and wager on every major race and every major track at SportsBetting's racebook. And not only that, there are plenty of promotions and bonuses simply for signing up and placing a horse wager on SportsBetting.
READ OUR SPORTSBETTING.AG REVIEW
SportsBetting makes playing the ponies easy for everyone including the novice horse gambler looking to get started as well as the old pro. Placing a wager on a horse can be a stressful thing. Just ask anyone who's been to the betting window at the track. The track name, the race, the horse, the bet, the amount of the bet. Is it boxed? Is it wheeled? There are so many options on every race it can get very intimidating very quickly.
This is another way SportsBetting makes placing a wager easier than ever. There are plenty of tutorials on the site that explain not only all the bets you can place but the jargon to use. Horse racing has a language all its own and understanding it will only make you a better player and enable you to cash more tickets. You'll learn how to play the exotics and box trifectas in no time.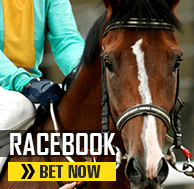 Free handicapping is available too with plenty of informed takes on all the horse at all the races. Big race coming up? The Belmont? The Breeders Cup? SportsBetting has you covered with all of the info you need to place an informed, winning wager. Be sure to check out as many of these features as you can before picking your horse.
There are plenty of promotions and bonuses available on Sportsbetting as well. For the horses or any other sport. They carry sign-up matching bonuses, reloading bonuses, and bonuses for referrals as well. All sports get the big event treatment as well with promotions and contests available every week. But don't stop there if you are looking for the deals. Sportsbetting also gives you access to a live casino with all of the table and card games ready for your action. And the racebook is no different.
One of the best plays in the racebook is their $25 Horse Free Play. Another free bet? No problem. The promotion applies to the horses and can be worth as much as $25. All you have to do is place a valid wager. If your wager then loses, you simply email freeplay@sportsbetting.ag with the subject line "$25 Horse Free Play" and the bonus will be credited to your account.
It's a steal of a deal for any level of player. Withdrawals are available with only a six time rollover. Far below any other rollover you'll find in any other online sportsbook. Knowing you have the racebook on your side makes it much easier to place that big bet and cash that big ticket. Rewarding good players is what SportsBetting is all about so don't miss an opportunity to take advantage.
Sportsbook, racebook, poker rooms, live casino. Promotions, bonuses, and contests. SportsBetting has everything you need. It's a one stop shop for all your easy online gambling needs so don't waste anymore time looking for anything better. Sign-up and start winning.