Tiger Gaming Promo Codes October 2020
Over here at SportsBookPromoCodes, we exist to do one thing right from the start.
Give you those great Promotional Codes to get you going, and if that's the number one thing you have come here for, well, you have come to the right place!
Screenshots
All you have to do to take a look at all of the Current TigerGaming Codes is to just keep scrolling down. You'll see the list of all the currently available codes for you to choose from!
Aside from all of the above, we do our best to tell you what you should be expecting from a site, be it good or bad.
We're going to have a hard time with this one as we're all located in the United States, and sorry Americans… This one's not for us!
That's right. TigerGaming is for the people that are located in Canada and Europe. We do feel confident in trusting them 100% because of just who owns them.
Tiger Gaming is owned by the same people that own Sportsbetting, BetOnline, and WildCasino, all of which have proved their worthiness time and time again. Obviously being run by these Industry Veterans, we absolutely trust Tiger Gaming and we're going with it. If that changes in the future, we'll be the first to admit our mistake.
And in knowing all of that, if you happen to be from one of the countries that does allow you to go to TigerGaming, get a load of these codes and grab the one(s) that are best for you!
How does an extra $1,000 sound to you? Pretty good right?
What if that were actually $3,000?
Over at TigerGaming you can have just that for use in their casino!
As long as it's your first deposit, you can get a 100% match for use in the casino of up to $1,000!
To make this even better, as long as it's your first 3 deposits, you can use this one 3 times for a total of $3,000!
Just make sure to use the code CASINO1 while making these 3 deposits!
There is a 40x rollover requirement attached to this, and any action on Baccarat, Roulette and Craps will not count towards the rollover.
This bonus was published on May 1, 2020
The Live Dealer Casino over at TigerGaming brings you a new Progressive Jackpot called Diamond Super 7's!
This is really easy to take part in over here. Just play some Blackjack in the Live Dealer Casino over at TigerGaming and be sure to place the "side bet" that will be available to you.
If you hit three 7 of Diamonds on one single hand, you win the Progressive Jackpot!
You can also win a "midi prize" of $1,000 when you get three red 7's on a hand, and finally the "mini prize" of $100 for getting any three 7's in a hand.
Every time someone places one of these side bets, money gets added to this progressive jackpot. There's no limit to how large this could grow!
This bonus was published on January 24, 2020
Monthly $15,000 BTC Leaderboard
While this promotion is called the "BTC Leaderboard", you actually don't have to use bitcoin, just any of the crypto monies that TigerGaming accepts!
Every month a new Leaderboard starts up for the month and all you have to do to take part in this is make your deposits!
End the month in the top eight places with the most amount wagered on casino games to bank up to $5,000 in Live Casino Free Chips.
With a new Leaderboard starting up every month, there's no reason to not get on this at any time and take part in this!
Prizes get paid according to this table.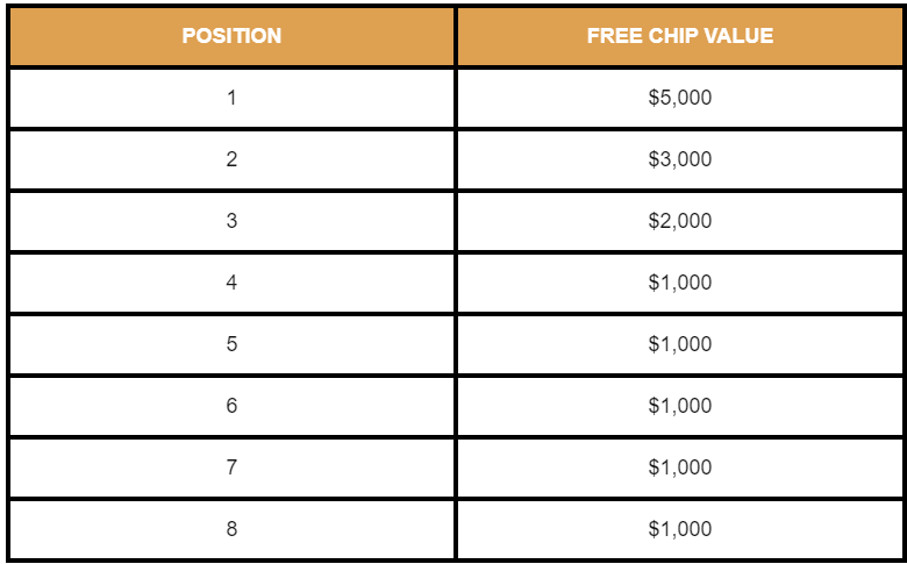 This bonus was published on January 24, 2020
What's better than playing some slots to blow off some steam?
Playing these slots and earning yourself some Free Spins to go along with them!
Play slots on Thursdays when the FREE SPINS FRENZY will reward you for it!
You can claim up to 100 Free Spins when you hit the reels on three of the newest games
Reels of Wealth
Tiger's Claw
Sugar Pop II
Just play any of those three slots on Thursdays and you'll automatically receive 1 free spin for every 10 x $3 spins on those titles.
You can earn up to 100 Free Spins every Thursday with this promotion, and there is a really beautiful part to go along with it…
There are no rollover requirements attached to it! These spins and the winnings to come from them are all yours!
This bonus was published on January 24, 2020
Blackjack and Roulette Leaderboard
If you like Blackjack and/or Roulette, you'll want to pay attention here!
Now, you can climb the Weekly Leaderboard when you're playing one, or both of these at the Live Dealer tables over at TigerGmaing.
You will earn 1 leaderboard point for every $10 that gets wagered at one of these tables. At the end of the week players will be paid out as such –
Blackjack – 1st, $500 – 2nd, $400 – 3rd, $300
Roulette – 1st, $500 – 2nd, $500 – 3rd, $500
This bonus was published on January 24, 2020
The larger the jackpot, the easier your chance to win!
Take a seat at any of the designated Bad Beat Jackpot tables (just look for the yellow star), and if your Four of a Kind Deuces or better gets trumped by a better hand, you and all others playing at Bad Beat Jackpot tables will share in the sweet jackpot!

The jackpot will pay out as follows –

20% player with Bad Beat
15% winner of the hand
12.5% players at the table
125% players at other BBJ tables
35% reseed
5% fee

Plus, as the jackpot grows, Tiger Gaming will periodically make the qualifying hand easier, increasing your chances of hitting the big one!
This bonus was published on January 27, 2020
Mark your calendars as Tiger Gaming has decided to upgrade the Sunday Main Event to $150k Guaranteed Status, making it the largest tournament on the weekly schedule!
The action will get underway each Sunday @ 1:00pm ET with a buy-ins as low as $5.50 and a starting stack of 10,000 chip
Tiger Gaming has daily satellites and qualifiers running with hundreds of seats to the big show. You can earn your spot in this massive event from as low as $5.50.
Also, check out this table to get an idea of when to play to win yourself a seat to the big game!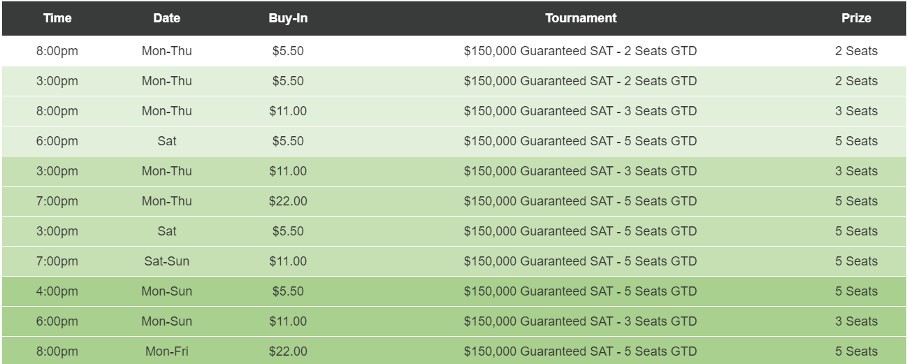 This bonus was published on July 9, 2020
$1 Million windfall Jackpot
Turn $10 into a $1 Million Sit & Go tournament in our special edition Windfall. Take your shot at this one in a million dollar opportunity, available for a limited-time!
$1 Million Windfall Jackpot Sit & Go
The dream of playing for a $1 Million event is real at TigerGaming with this special edition Sit & Go tournament. Turn $10 into $1,000,000 by registering to one of our 3-player hyper turbo Sit & Go Windfalls available in the poker client.
What is a Windfall?
If you haven't been to the Windfall lobby you are missing out. These are 3-player hyper turbo sit & goes with buy-ins between $3 and $30 with a random prize pool that can now go to up to 100,000x your buy-in with the new $1M Windfall Jackpot.
Once you choose your buy-in watch the spinner in the center of the table to see how much cash you could be playing for, then the game will play out fast and furious.
Prizes and Probability
The lower tiers in our $1M Windfall Jackpots will have a "winner-takes-all" payout structure but every time you hit one of the five higher tiers all 3 players in the game will get paid!
Below is a breakdown of the prizes and the probability available in our special edition $1M Windfall Jackpot Sit & Go
This bonus was published on September 1, 2020
Here, TigerGaming is going to take your initial deposit for the Poker Room and double it for you!
That's right! You'll get a nice, 100% Match Bonus for use in their Poker Room as long as you use the promo code NEWTG when you make that deposit!
To take advantage of it, you'll first make your deposit of at least $50 at TigerGaming, and then send an email to support@tigergaming.com with your code, (NEWTG) in the subject line and TigerGaming will add the money to your balance.
Once this has been credited, every time you earn 5,000 comp points, TigerGaming will release $10 until all of your bonus money has been received.
This bonus was published on January 24, 2020
Fast Fold Boost Bad Beat Jackpot
Can a losing hand turn out to be the hero? It can in the new Boost Bad Beat Jackpot tables over at Tiger Gaming!
If all the stars align, your losing hand can be your true "winner" by triggering the Bad Beat Jackpot!
So, get your "fast fold" fix and win a big jackpot in the same game, available on the Boost Poker Cash Tables now!
Just take a seat at one of the Boost Bad Beat Jackpot Cash Tables, and if your Full House "any Aces full" or better gets beaten by a higher ranking hand, you and all others playing at these designated tables will share in the Jackpot prize money!
Bad Beat Payouts –
Winner of Bad Beat (Losing Hand) 40%
Winner of the Hand 20%
Players at the table where the BBJ was triggered: 15%
Players playing on bad beat boost tables: 10%
Reseed value: 15%
No fee is taken by the house, and every cent goes right back to the players!
This bonus was published on January 27, 2020
$150K Jackpot Sit 'n' Go's
JACKPOT & FLIP SIT 'N GO'S
Two new Sit 'n Go tournament structures each deliver a pair of payout possibilities over at Tiger Gaming.
There's a Jackpot Prize or a MAX Prize, dependent on the buy-in level you opt into!
Plus, the Buy-in Win Multipliers aren't just good, they're downright awesome with up to 5,000x your buy-in for a massive $150,000 random jackpot score at the highest limit!
This bonus was published on August 5, 2020
$10,000 Weekly Cash Race Leaderboard
Opt-in to your preferred stake levels and compete in an equal playing field every week to collect your share of the $10,000 in leaderboard prizes!
You may choose to participate in one or more leadeboards each week to maximize your winnings. Enter all of them if you'd like!
Opt-in and play your favorite real money cash games from 12:01 pm ET on Sunday until 11:59 am ET the following Sunday and you will automatically earn points to climb the ranks, securing your share of the $10,000 in Leaderboard cash prizes.
The top 100 get paid, recouping that rake on the Sunday to keep your bankroll ticking along – perfectly timed for the start of the new weekly cash race and the Sunday Majors!
$150,000 Guaranteed Sunday Tickets
Plus, the top 10 will receive, in addition to their cash reward, a seat in our Sunday Main Event with at least $150,000 guaranteed.
This bonus was published on September 1, 2020
Stack your poker wallet with some extra money just by playing Tiger's Sit & Go tournaments.
There's $5,000 on the line every week in 7 different Leaderboard competitions that reward you for your Sit & Go activity.
Win leaderboard prizes in Tournament Money (TM) or Tournament Tickets when you take part in any of the Sit & Go leaderboards awarding $5,000 in prizes each week from Sunday at 12:00 pm ET until the following Sunday at 11:59 am ET.
Compete against other players in an equal playing field by earning points for every real money Sit & Go tournament you play!
This bonus was published on September 1, 2020
As we have stated, here in the office, we're all located in the United States so we cannot fully 100% use the site ourselves to give full, 100% honest reviews or opinions over here.
What we can do is trust them as long as they keep doing what they do and the parent company that owns Tiger Gaming do what they do!
If anything were to change and we realize that they cannot be trusted, we will absolutely be very first to tell you!