Tiger Gaming Promo Codes for Mid February 2020
UPDATED
February 13, 2020
Over here at SportsBookPromoCodes, we exist to do one thing right from the start.
Give you those great Promotional Codes to get you going, and if that's the number one thing you have come here for, well, you have come to the right place!
Screenshots
All you have to do to take a look at all of the Current TigerGaming Codes is to just keep scrolling down. You'll see the list of all the currently available codes for you to choose from!
Aside from all of the above, we do our best to tell you what you should be expecting from a site, be it good or bad.
We're going to have a hard time with this one as we're all located in the United States, and sorry Americans… This one's not for us!
That's right. TigerGaming is for the people that are located in Canada and Europe. We do feel confident in trusting them 100% because of just who owns them.
Tiger Gaming is owned by the same people that own Sportsbetting, BetOnline, and WildCasino, all of which have proved their worthiness time and time again. Obviously being run by these Industry Veterans, we absolutely trust Tiger Gaming and we're going with it. If that changes in the future, we'll be the first to admit our mistake.
And in knowing all of that, if you happen to be from one of the countries that does allow you to go to TigerGaming, get a load of these codes and grab the one(s) that are best for you!
How does an extra $1,000 sound to you? Pretty good right?
What if that were actually $3,000?
Over at TigerGaming you can have just that for use in their casino!
As long as it's your first deposit, you can get a 100% match for use in the casino of up to $1,000!
To make this even better, as long as it's your first 3 deposits, you can use this one 3 times for a total of $3,000!
Just make sure to use the code TGCASINO while making these 3 deposits!
There is a 40x rollover requirement attached to this, and any action on Baccarat, Roulette and Craps will not count towards the rollover.
This bonus was published on January 24, 2020
The Live Dealer Casino over at TigerGaming brings you a new Progressive Jackpot called Diamond Super 7's!
This is really easy to take part in over here. Just play some Blackjack in the Live Dealer Casino over at TigerGaming and be sure to place the "side bet" that will be available to you.
If you hit three 7 of Diamonds on one single hand, you win the Progressive Jackpot!
You can also win a "midi prize" of $1,000 when you get three red 7's on a hand, and finally the "mini prize" of $100 for getting any three 7's in a hand.
Every time someone places one of these side bets, money gets added to this progressive jackpot. There's no limit to how large this could grow!
This bonus was published on January 24, 2020
Monthly $15,000 BTC Leaderboard
While this promotion is called the "BTC Leaderboard", you actually don't have to use bitcoin, just any of the crypto monies that TigerGaming accepts!
Every month a new Leaderboard starts up for the month and all you have to do to take part in this is make your deposits!
End the month in the top eight places with the most amount wagered on casino games to bank up to $5,000 in Live Casino Free Chips.
With a new Leaderboard starting up every month, there's no reason to not get on this at any time and take part in this!
Prizes get paid according to this table.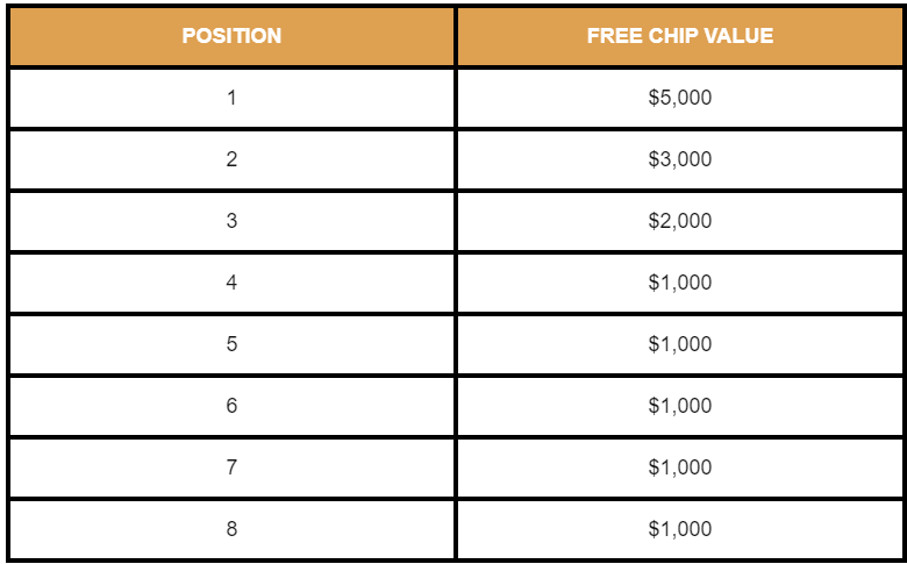 This bonus was published on January 24, 2020
What's better than playing some slots to blow off some steam?
Playing these slots and earning yourself some Free Spins to go along with them!
Play slots on Thursdays when the FREE SPINS FRENZY will reward you for it!
You can claim up to 100 Free Spins when you hit the reels on three of the newest games
Reels of Wealth
Tiger's Claw
Sugar Pop II
Just play any of those three slots on Thursdays and you'll automatically receive 1 free spin for every 10 x $3 spins on those titles.
You can earn up to 100 Free Spins every Thursday with this promotion, and there is a really beautiful part to go along with it…
There are no rollover requirements attached to it! These spins and the winnings to come from them are all yours!
This bonus was published on January 24, 2020
Blackjack and Roulette Leaderboard
If you like Blackjack and/or Roulette, you'll want to pay attention here!
Now, you can climb the Weekly Leaderboard when you're playing one, or both of these at the Live Dealer tables over at TigerGmaing.
You will earn 1 leaderboard point for every $10 that gets wagered at one of these tables. At the end of the week players will be paid out as such –
Blackjack – 1st, $500 – 2nd, $400 – 3rd, $300
Roulette – 1st, $500 – 2nd, $500 – 3rd, $500
This bonus was published on January 24, 2020
$125,000 Guaranteed Texas Hold'em Tourney
TigerGaming has a massive $125,000 No Limit Texas Hold'em Tournament scheduled to go down on Sunday March 1st, and locking in your seat just got easier!
With a number of satellites and qualifiers lined up, virtually anyone can get in and take home a huge chunk of change!
There are satellites and qualifiers for as low as $5.50 per buy in, or you can just guarantee yourself a seat for $109.
Here's a table talking about some of the satellites.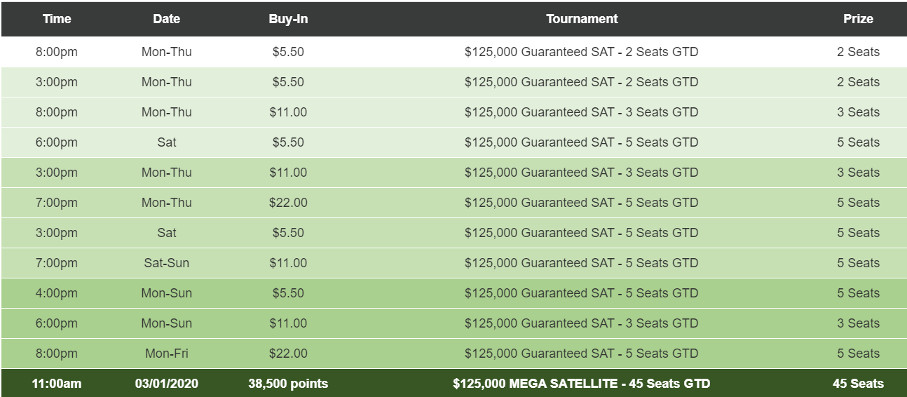 This bonus was published on February 13, 2020
What are you doing this President's Day Weekend? You know, besides getting a great deal on a new mattress?
Playing in one of the many, many Poker Tournaments will in fact be your chance to walk off with some dough with TigerGamings $100,000 in Guaranteed Prizes!
This Epic Monday Presidents' Day edition will feature –
50% Increase in standard prize guarantees
Larger tournament schedule
More money to win while keeping the same buy-in amount
Just head on over to TigerGaming to check out their day's schedule and events table and then mark that calendar!
This bonus was published on February 13, 2020
Here's the challenge for those that can end up as the top 3 Poker Grinders every month.
This promotion rewards those players for hitting the cash tables often and playing hands regularly!
Prizes are given out as follows for the winners –
1st place – $3000
2nd place – $1500
3rd place – $500
 
Starting on the first of the month, players will accumulate points to participate in the $5000 Iron Man contest.
Players will earn 1 point for every hand that goes to the flop and 2 additional points if the same hand gets to showdown.
Mission Overview and Tracking
On the bottom left hand corner of your screen you will be able to access the My Missions tab which provides a list of all active missions and leaderboards.
This bonus was published on January 24, 2020
$10,000 High Hand Leaderboard
Need to top up your Tigergaming poker account/
You can do so very handsomely with tigerGaming's $10,000 High Hand Weekly Leaderboard.
This promotion rewards the top 100 players at No Limit Texas Hold'em tables that accumulate the most points for their "High Hands" throughout the week.

Now, this is one that you must "opt-in" to, in order to participate in, so don't forget to do that!
To opt-in to this one, just check your screen for the "My Missions" tab and you will see the option to do so.
Take a look at what you could be winning!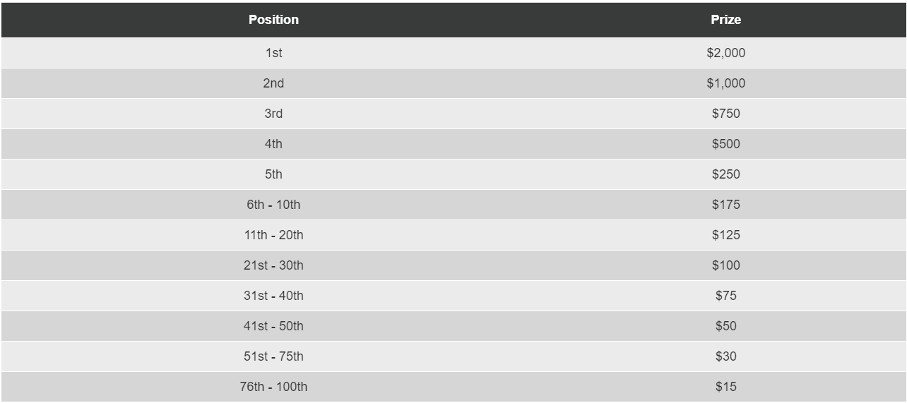 This bonus was published on January 24, 2020
Want to take part on some $2000 Weekly Missions?
Players will get access to exclusive weekly and monthly tournament events by completing Poker Missions.
You can add an extra layer of entertainment to your regular games by opting in to exciting challenges at the cash games over at Tiger Gaming.
Complete tasks and unlock tournament entries with cash prizes every week!
Each week players at Tiger Gaming are presented with 5 cash game missions. Players have from Monday 00:00 ET to Friday at 23:59 ET to complete those.
Each completed mission awards players 1 point.
On Sundays, a $2,000 Freeroll at 13:00 ET will take place for players that earned at least 3 points from those weekly missions. Starting stacks will be awarded as such –
3 Missions accomplished: 2,500 in starting chips.
4 Missions accomplished: 5,000 in starting chips.
5 Missions accomplished: 10,000 in starting chips.
Here are some examples of the missions you will be facing, should you choose to accept them –
See 100 flops on any cash table.
Get a straight on PLO tables, 3 times.
Get a pair of Jacks and take those to showdown.
Get a full house on any hold'em table.
Get a flush on the flop on any NLHE table, twice.
This bonus was published on January 26, 2020
Fast Fold Boost Bad Beat Jackpot
Can a losing hand turn out to be the hero? It can in the new Boost Bad Beat Jackpot tables over at Tiger Gaming!
If all the stars align, your losing hand can be your true "winner" by triggering the Bad Beat Jackpot!
So, get your "fast fold" fix and win a big jackpot in the same game, available on the Boost Poker Cash Tables now!
Just take a seat at one of the Boost Bad Beat Jackpot Cash Tables, and if your Full House "any Aces full" or better gets beaten by a higher ranking hand, you and all others playing at these designated tables will share in the Jackpot prize money!
Bad Beat Payouts –
Winner of Bad Beat (Losing Hand) 40%
Winner of the Hand 20%
Players at the table where the BBJ was triggered: 15%
Players playing on bad beat boost tables: 10%
Reseed value: 15%
No fee is taken by the house, and every cent goes right back to the players!
This bonus was published on January 27, 2020
Here, TigerGaming is going to take your initial deposit for the Poker Room and double it for you!
That's right! You'll get a nice, 100% Match Bonus for use in their Poker Room as long as you use the promo code NEWTG when you make that deposit!
To take advantage of it, you'll first make your deposit of at least $50 at TigerGaming, and then send an email to support@tigergaming.com with your code, (NEWTG) in the subject line and TigerGaming will add the money to your balance.
Once this has been credited, every time you earn 5,000 comp points, TigerGaming will release $10 until all of your bonus money has been received.
This bonus was published on January 24, 2020
The larger the jackpot, the easier your chance to win!
Take a seat at any of the designated Bad Beat Jackpot tables (just look for the yellow star), and if your Four of a Kind Deuces or better gets trumped by a better hand, you and all others playing at Bad Beat Jackpot tables will share in the sweet jackpot!

The jackpot will pay out as follows –

20% player with Bad Beat
15% winner of the hand
12.5% players at the table
125% players at other BBJ tables
35% reseed
5% fee

Plus, as the jackpot grows, Tiger Gaming will periodically make the qualifying hand easier, increasing your chances of hitting the big one!
This bonus was published on January 27, 2020
Jackpot Sit 'n' Go's and Flip Sit 'n' Go's
Sit 'n Go's just got amped up with two new action-packed 'hit and win' structures on the table and available to play in the WINDFALL tab!
So, get ready to roar with excitement when you try the fiercely rewarding Jackpot Sit 'n Go's, or the freshly launched Flip Sit 'n Go's.
JACKPOT SIT 'N GO'S
With buy-ins from as little as $3, these 3-player Hyper Turbo Sit 'n Go's serve up a shot at landing the MAX PRIZE (5,000x your buy-in), or triggering a progressive Jackpot prize, in which you'll play for a share of 85% of the Jackpot! (15% reseeds the next one)
That means a Monster $150,000 is up for grabs at the highest limit ($30 buy-in)! So, claw your way to the big wins when you take a chance on Tiger Gaming's Jackpot Sit 'n Go's!
Flip Sit 'n' Go's
tiger is predicting that their "Instant All-In" or Flip Sit 'n Go's are set to become wildly popular!
An easy way to win without breaking a sweat! Buy-in for $3, $5 or $10, then take a seat, kick back and watch the game play out!
In this format, you're automatically ALL-IN every time until a winner is crowned, while playing for 1.5x to 1,000x your buy-in with a probability of 1 in 10,000!
This bonus was published on January 27, 2020
As we have stated, here in the office, we're all located in the United States so we cannot fully 100% use the site ourselves to give full, 100% honest reviews or opinions over here.
What we can do is trust them as long as they keep doing what they do and the parent company that owns Tiger Gaming do what they do!
If anything were to change and we realize that they cannot be trusted, we will absolutely be very first to tell you!